Smiley: Governor Edwards as an urban cowboy | Smiley anders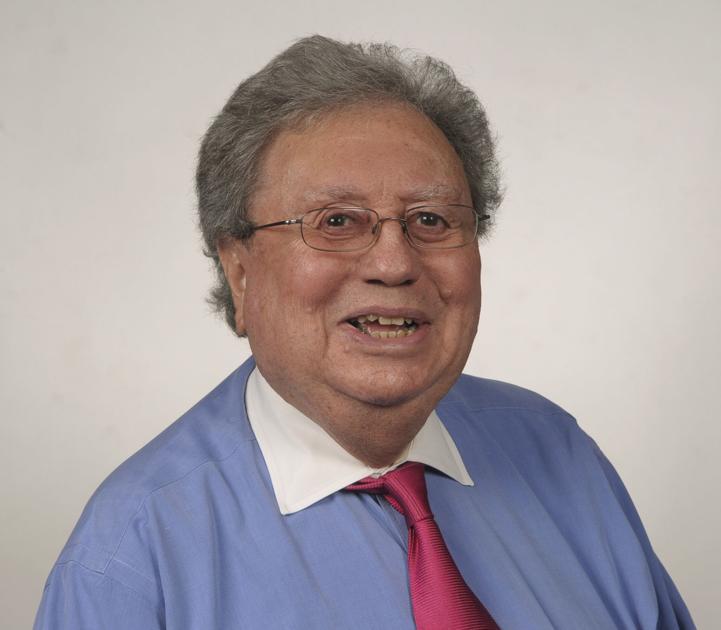 "Thursday's story about Edwin Edwards on the white horse," says Michael J. DeFelice, "reminded me of seeing him at Kleinpeter Stables in Baton Rouge, where he was riding.
"A long black limo pulled up and Edwards walked out wearing cowboy boots, blue jeans, a western shirt and a white hat.
"The scene was marred by his two assistants in suits and ties. They entered the barn, took out his horse and saddled him.
"Years later, when I completed the assessment of his home on Highland Road for Dixie Federal Savings and Loan, he proudly showed me his rhino skin saddle that a friend gave him."
Talent by osmosis?
Another story about the teacher who punished the students by making them stand behind a piano:
Joe Mistretta of Donaldsonville says, "My late brother-in-law, Carl Schexnayder, was the conductor at St. Amant High for many years.
"Once, after a performance at his alma mater, the Catholic Ascension in Donaldsonville, his first year teacher, Sister Marie, complimented his performance and informed the student body, 'The reason Mr. Schexnayder is so good in music is because he spent so much time behind my piano! "
Sweet party
For Florent "Pon" Hardy Jr., retired Louisiana State Archivist, July 14 has special significance.
On July 14, 1789, revolutionaries stormed the Bastille prison in Paris, an event establishing the unity of the French nation. Called here "Bastille Day", it is celebrated in France as the French national holiday (La Fête Nationale).
Pon, an authority on the French in Louisiana, discovered the word was about his interest in the celebration.
At lunch Wednesday at Ruth's Chris Steak House in Baton Rouge, she was presented with a surprise dessert, a cheesecake decorated with the French tricolor – strips of blueberry and strawberry sauces on either side of the top of the cottage cheese cake.
Title search
Chuck Pickett of Lafayette says, "My favorite funny country music song is 'I'm The King of Barstool Mountain' (recorded by Johnny Paycheck in 1977).
"I crack every time I hear it."
Wayne Weilbaecher of Covington says, "After reading articles about funny names for country songs, I think they missed one.
"How about 'Let me fall, Jesus, through the posts of life?' ""
The Bobby Bare classic, recorded in 1976, is obviously aimed at fans who follow football religiously.
Speaking josey
"Speaking of accents," says Martha Wright, "Malcolm's husband would tell me when he would go to Marine Corps summer camp in the 1950s in Quantico, Va., For two weeks while he was in school. 'university (instead of ROTC).
"There were 'guys' from New Jersey who were like,' Damn, you're talking funny! "
Birth announcements
Thanks to Brooks Kubena for conveying this cool coincidence story.
Henry Hays and his wife Melissa both celebrate their 50th birthdays on Thursday. Being born on the same day is a bit unusual, but as Henry describes it, "Our situation is really strange! My wife was born two hours before me at the Baton Rouge Women's Hospital."
Henry adds that the doctors who issued them were partners.
"We've been married for 23 years and have three children. Weird, huh?"
Special Persons Department
Wiley Duke of Baton Rouge celebrates his 96th birthday on Sunday July 18. He is a decorated veteran of the Battle of the Bulge in WWII.
Carl N. Williams of Zachary celebrates his 94th birthday on Sunday July 18th. He's a Korean War veteran.
Lou "LuLu" Miller, of Metairie, turns 90 on Sunday July 18th.
Anna and Pat Hogan, of Covington, formerly of Chalmette, celebrate their 61st birthday on Friday July 16.
Steve and Jenny Person, of Prairieville, celebrate their 50th birthday on Saturday July 17th. He's a Vietnam War Marine veteran.
Central's Diana Bush Penton and Jerry Penton celebrate their 50th birthday on Saturday, July 17.
End time?
Marsha R., from Baton Rouge, recounts an unfortunate event:
"I eat Chinese takeout for the third night because the portions are so big.
"I saved the fortune cookie for tonight.
"The cookie was empty. No fortune.
"Is this a sign? Disturbing. "